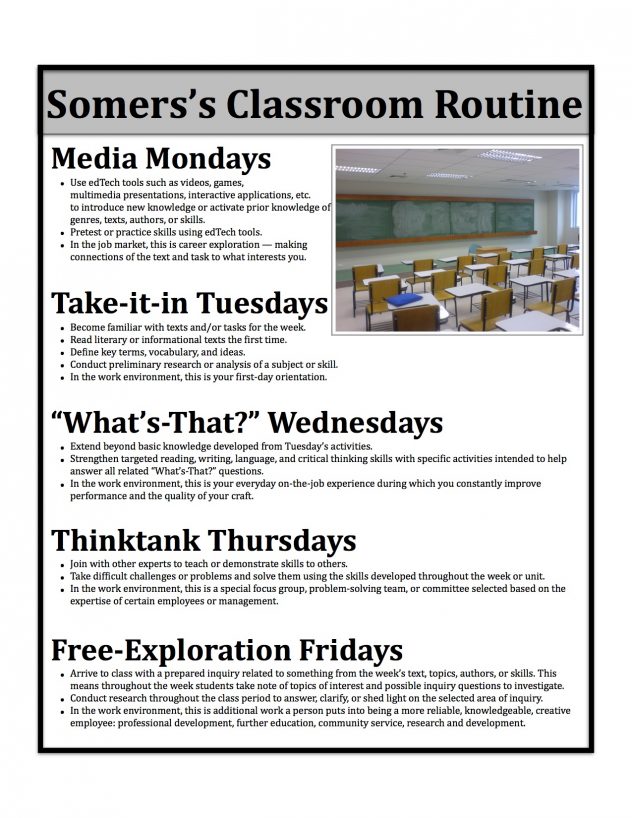 Part of the Champs classroom management system includes developing a classroom routine. Yes, this includes managing when and how students use the classroom pencil sharpener, go the restroom, and obtain classroom materials. It can also mean having a general plan for daily activities.
A routine is good for both me and my students. It allows me to keep things fresh and avoid ruts. It provides my students a sense of expectation which results in less classroom disruptions, increased motivation, and greater breadth of application and discovery.
I've just finished creating a new daily classroom routine, and I'm excited about its potential. Feel free to check it out here or take a look at the snapshot of it I've included in today's post.
[embeddoc url="https://smoreenglish.edublogs.org/files/2017/01/Somers-Classroom-Routine-2c6tio2.pdf" viewer="google"]
-Mr. Somers (aka S'mores)
_____________________
Do you have a classroom management routine? Tell me and others about by leaving a comment below. Have a comment about or suggestion for mine? Pass it along. There's always room to improve!