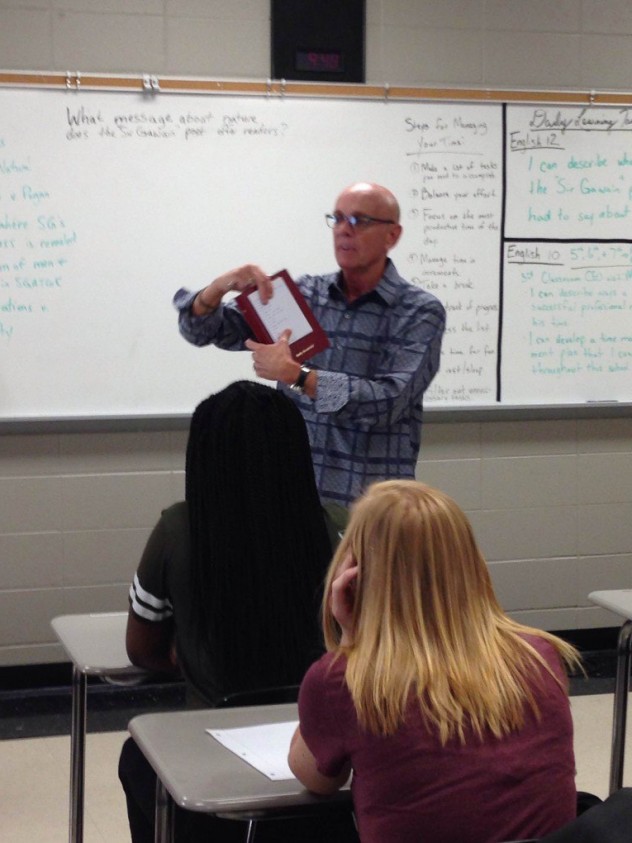 Classroom CEO is new on our high school campus. I didn't ask for it; there wasn't anything magical about it choosing me. It more or less turns out that my typical class's mixture of students juxtaposed well with others as an experimental group whose achievement could be measured and compared to other Classroom CEO classes and non-Classroom CEO classes.
The expectation: Classroom CEO would present practical real world (i.e., business, employment, adult) knowledge that could translate to a more organic, motivated classroom that begins to make applications of other classroom learning, traditional and non-traditional, to post-academic experiences.
The question: Could I and my Classroom CEO sufficiently plan and execute valuable learning experiences from which students could retain knowledge and skills and, more importantly, from which students could become so motivated as to significantly alter the course of their overall academic achievement?
We're a month in, so don't think I'm going to answer those questions. Yet.
But, this fairly rough-around-the-edges third-year teacher has already learned some things. And I think my kids have, too. Here are some important bits I gleaned from Phil's (Note: Uncomfortable as it was for me at first, "Mr. Webb" was apparently too distant. He corrected me: "Phil.") recent visit on the monthly theme, Time Management.
(1) Look to examples of success for effective time-management lessons. Phil's examples included that of his grandfather Garth whose endeavors included a farmer's supply and hardware store and innovations included a concrete mill and gravel pit on the Coosa River. They also included Phil's father who continued to grow the family business and the amazing work ethic of L.E. Bell, President of L.E. Bell Construction (a Heflin, Alabama-based company involved in pipeline construction), who while in high school used his family's own backyard as the place to develop his ability to weld. Success in these instances was less about extensive classroom education and more about the use of time, talent, and energy.
(2) Asking Why? is possibly the most important question a person can ask. A few days before school started, Phil and I had our initial planning meeting for September's class session. He illustrated this point: "Why don't you have your room set up yet?" Books stacked everywhere. Empty shelves. Tangled disconnected computer wires. Posters lying flat on desks. I felt terrible, but he was right. My priorities had been on other things: curriculum, supplies, spending fleeting moments with my family. His point to students: "Why didn't you get to school on time?" "Why don't you have anything to do?" Why's important, and poor time-managers don't ask it enough.
(3) Facebook can be a distraction for 30 minutes, so don't do it. Maybe you've got to know Phil a little more. Busy business people — no, let's leave it as successful people — are willing to stay up late and get up early to do what they have to do. Go to bed at 11 or so. Get up at 3:00 or 3:30. There's no time to waste. Phil said something to me that went like this: "I could sleep longer, but I wouldn't have time to get done with what I have to get done." Avoid distractions.
(4) Plan time spent like you plan money spent. Phil handed mock checks to the
students, showing a payment of $86,400. That'll catch a 15/16-year-old's eye. He gave them three minutes to write down specifically how they'd spend it if they had to spend it. Afterward, he revealed the check's amount is the same as the number of seconds in a day. He added that most people don't take three minutes to plan out their day — and for most of us, the time's gone before we even realized it was in our account.
(5) The challenge is not to manage time; it is to manage ourselves. I find this rooted in the concept of self-control and self-efficacy. The first has to do with being able to abstain from unnecessary time-wasters. The latter has to do with one's perceived potential for self-management and achievement. Time management comes easy to those who are dedicated to doing only what they need to do and avoiding distracting extravagances.
(6) Don't sleep until you've planned tomorrow. Going to sleep with a plan makes for a more restful sleep. Phil updates and records new plans for the next day every evening. He uses a basic, Bible-like red hardback book. As he said, "When the year's over, I go to the Oxford Exchange and get another one." There's nothing difficult about this. Just do it.
(7) You don't need a flashy, technological time-management method. You just need something practical for you. Use what fits you best. If you're a tech person, then use Google Calendar, Outlook, iPhone Calendar, or a reminder app. But if technology distracts you, or if you struggle to make technology work correctly, then use the ol' K.I.S.S. method. As stated previously, Phil's red book does the job, and it's portable, accessible, and professional.
(8) Time is a common denominator; how we use it is what makes us so different. Phil credits this tip to David Cutcliffe, the current head football coach at Duke University. Phil said, "Everyone in this world — every individual living and breathing — has something in common: time." It was funny at the time he said this to the students, though. Framed as a question, the kids guessed: "hearts," "lungs," " brains," etc. Well, yes. But the idea is not about something internal and non-manageable. I don't say to myself, "How will I use my heart today?" or "I think I'll spend my lungs wisely for the rest of the day." Instead, time does seem to be the single common external resource everyone possesses. It's just not as universally appreciated and utilized.
(9) It's possible to have a lot going on and still get a lot done. There's nothing like meeting someone who gets up before you and goes to bed later than you. It'll make you feel lousy and useless pretty fast. A quick look at Phil's schedule — his business responsibilities (i.e., calls, commitments, meetings, etc.) and community and organizational involvement (it's a long list, click here) will make a person's go to work + stop by Wal-Mart on the way home to get hot dogs and chips for dinner + set the microwave to three minutes + do a few household chores + write checks for the kids' picture day and school lunches + relax for the rest of the night + get kids in bed by 8:00 + go to bed equation seem awfully wasted. I've learned to feel less overwhelmed — maybe even less victimized — by listening to Phil's descriptions of the many opportunities he takes to keep himself active for his own success and the success of his family, business, community, and state.
(10) Try to be a part of a successful person's schedule. I saved this one for last, but it's so true. It's an honor to be a part of a busy person's schedule. Phil handed his red book, an organizer he uses to plan his daily schedule, to one of my students. She read the items for the day. Something about paying bills. Something else about going to Tuscaloosa and returning at 11:00 PM. More about additional business meetings and family obligations. Squeezed into Phil's busy schedule, as the student read his day's plans aloud to the class, was "10:25-11:20: Classroom CEO with Cade Somers's 10th grade class" (or something to that effect). How'd that make me feel? Surprisingly special. Not just for me, but for my students. For someone who counts his time like money, Phil must count minutes spent in a classroom as an enormous investment. And knowing we're a part of his schedule makes us work harder.
Mr. Somers (aka S'mores)